At the heart of the ICT revolution
In the 21st century, the Information and Communications Technology (ICT) revolution continues to transform human societies and economies, and the increasingly intensive use of information has also accelerated technological innovation, which occupies an increasingly important role in all organizations. ICTs are decisive in improving the competitiveness of companies and in optimizing the costs of operations, in addition to enabling solutions, services and forms of organization unknown until now.
In this context, Axians is an absolutely key player, a builder of successful innovative solutions and a provider of digital services, which it offers with the closeness and flexibility that have characterized it through its history.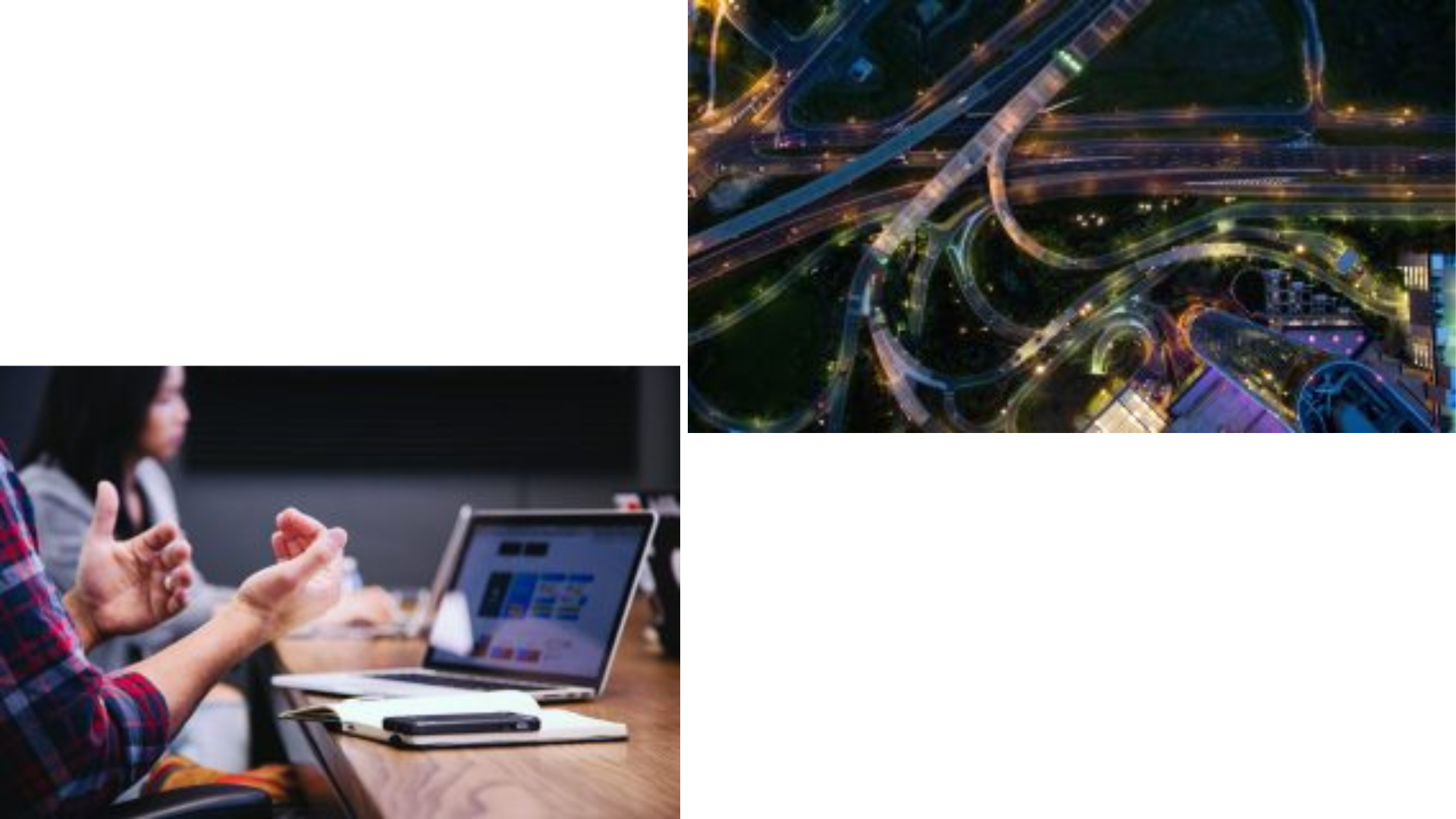 The ICT brand of the VINCI group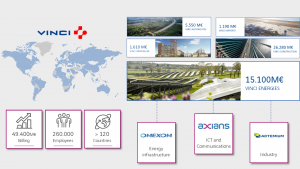 This history goes back to VINCI group, whose origins are centuries old, and which today constitutes a business group with more than 260,000 employees distributed in more than 120 countries and with a turnover of close to €50,000 million. VINCI's activity is divided into various areas, notably VINCI Energies, the division from which it projects its activity through its brands in the Energy (Omexom), Industry (Actemium) and ICT with Axians.
Axians, leading ICT worldwide
Axians is the undisputed leader at an international level, and carries out all its activities in dozens of nations and with thousands of collaborators spread all over the world. Its activity is diverse and it is specialized in different technological lines that promote all markets and sectors. As part of the VINCI Energies group, Axians plays a differential role in the digital transformation scenario, with unified solutions in the Energy and Industry markets; and in the lines linked to IoT, Industry 4.0 and Smart Cities.
Turnover

Collaborators

Countries
Axians Spain
Thanks to its international projection through VINCI Energies, Axians is one of the largest ICT integrators in the world and an undisputed leader in the Spanish market. Axians Spain has a history of more than 30 years, and has been known in the sector through different brands up to the present. Over the years, a success story has been forged, we have been growing closed to our customers and suppliers and have resisted the most complex situations, reaching today a turnover of close to €120M, with profitability guaranteed by VINCI's operating model, based on: Business Units, a strong Culture of Values ​​and sustainable growth.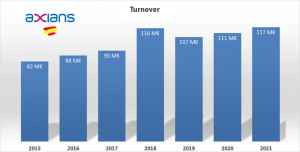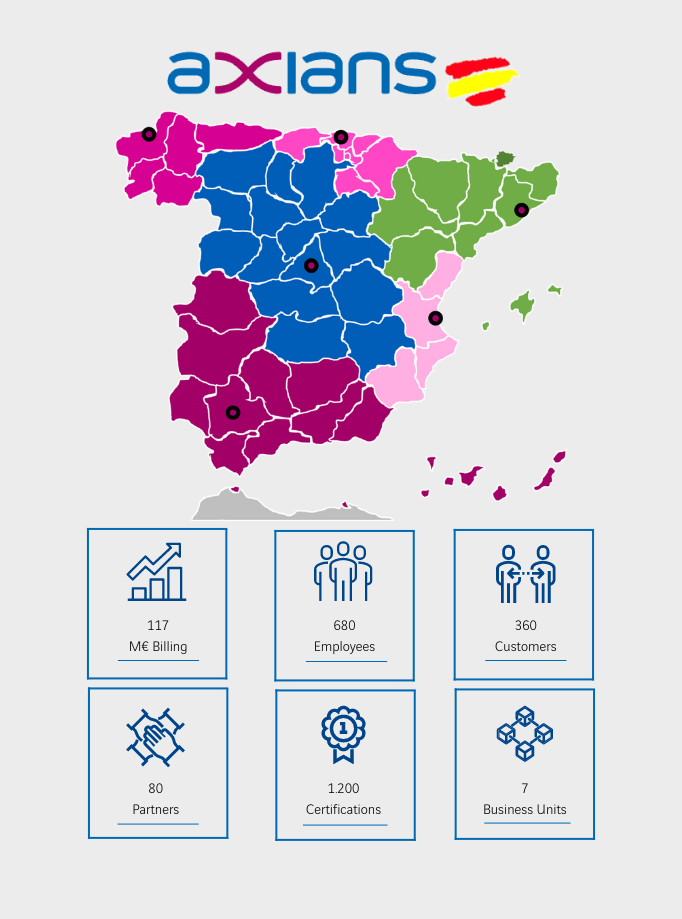 Axians has a huge presence in the ICT integration sector in Spain and projects its growth towards new activities, convinced of its role in digital transformation and backed by VINCI's expansive policy with inorganic growth on innovative and profitable companies that add value to your strategy.
The direct presence of Axians Spain through multiple offices throughout the Spanish territory allows us to maintain this close relationship with hundreds of active clients, which are companies and organizations of the first magnitude in their various sectors and administrations. This leadership is manifested because the majority of Axians' clients are IBEX 35 companies.
This growing volume wouldn't be sustainable if Axians didn't have a network of strategic partners with whom it has spent decades forging agreements and alliances of enormous stability, treasuring multiple individual and corporate certifications in its products and solutions that exemplify the enormous technical and operational quality of your personal.
The distribution of its activity allows it to have a very balanced presence in various axes such as diversification in technological lines, the balance between solutions and services, geographical and sectoral distribution in vertical markets.
Strategy
Axians' strategy unfolds in four large dimensions that provide all the necessary elements to generate the innovation that its clients need, anticipating changes and maximizing its value: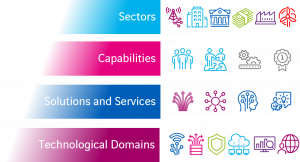 Axians offers a complete range of solutions and services that cover the key Technological Domains in ICT, from Telecoms Infrastructure and Enterprise Networks, through the Cloud & Data Center or Digital Workspace, to business applications and data analytics, all covered under an essential domain of cybersecurity that protects them.
Axians develops a wide Solutions and Services Catalog within each of these technological domains that respond to the needs of our clients, who are always in constant evolution and who demand constant adaptation to changes knowing how to tackle them through technological innovations.
The Integrated Capabilities that Axians uses to develop its value proposition and provide its services are nurtured from various sources: an internal innovation group with expert architects; an extensive ecosystem of leading manufacturers; Deep in-house knowledge with highly qualified personnel and vast customer experience allow Axians to cover and exceed end-to-end projects with guarantees.
This experience in clients allows Axians to know in depth the needs and peculiarities of various Sectors, which makes us provide solutions and services adapted to their particular needs. The proximity of Axians' business units to the reality of its clients maximizes this value contribution.
With all this, Axians can sustain as its mission to provide the best ICTs and extract maximum value from them, always with a human face and touch, to help improve the lives of people and organizations. Thus, in the context provided by VINCI Energies, Axians can be seen as the close and innovative partner of our clients, accelerating the energy transition and digital transformation with ICTs.
Strong values ​​that forge our culture and guide our actions
AUTONOMY
We allow talent to express itself, giving each collaborator and Business Unit the freedom to take initiatives. The Business Units define their own development strategies and are empowered to implement them in accordance with the Group's culture. This empowerment reinforces their ability to act quickly and creatively, in direct contact with customers.
RESPONSIBILITY
Our success depends on the responsibility of our employees at all levels of the organization, regardless of their position. All collaborators are responsible to their colleagues for their projects, clients and Business Unit.
ENTREPRENEURIAL SPIRIT
We recognize each individual's ability to take initiative, assess risk, anticipate success, and achieve it. This spirit allows us to innovate in our projects. We know how to combine our skills to respond to complex projects and provide our clients with comprehensive services and processes while staying true to our network of Business Units.
SOLIDARITY
More than a principle, solidarity is a reality that is expressed in the network: knowledge, activities and resources are shared within the Group to increase efficiency and the ability to act quickly. Solidarity is also expressed by the involvement of employees in civil society. These can contribute through the VINCI Spain Foundation, together with organizations interested in insertion through economic activity.
TRUST
We choose to work in a spirit of trust. Trust is something that is given, deserved, rewarded and that allows people to work together knowing that they can count on each other.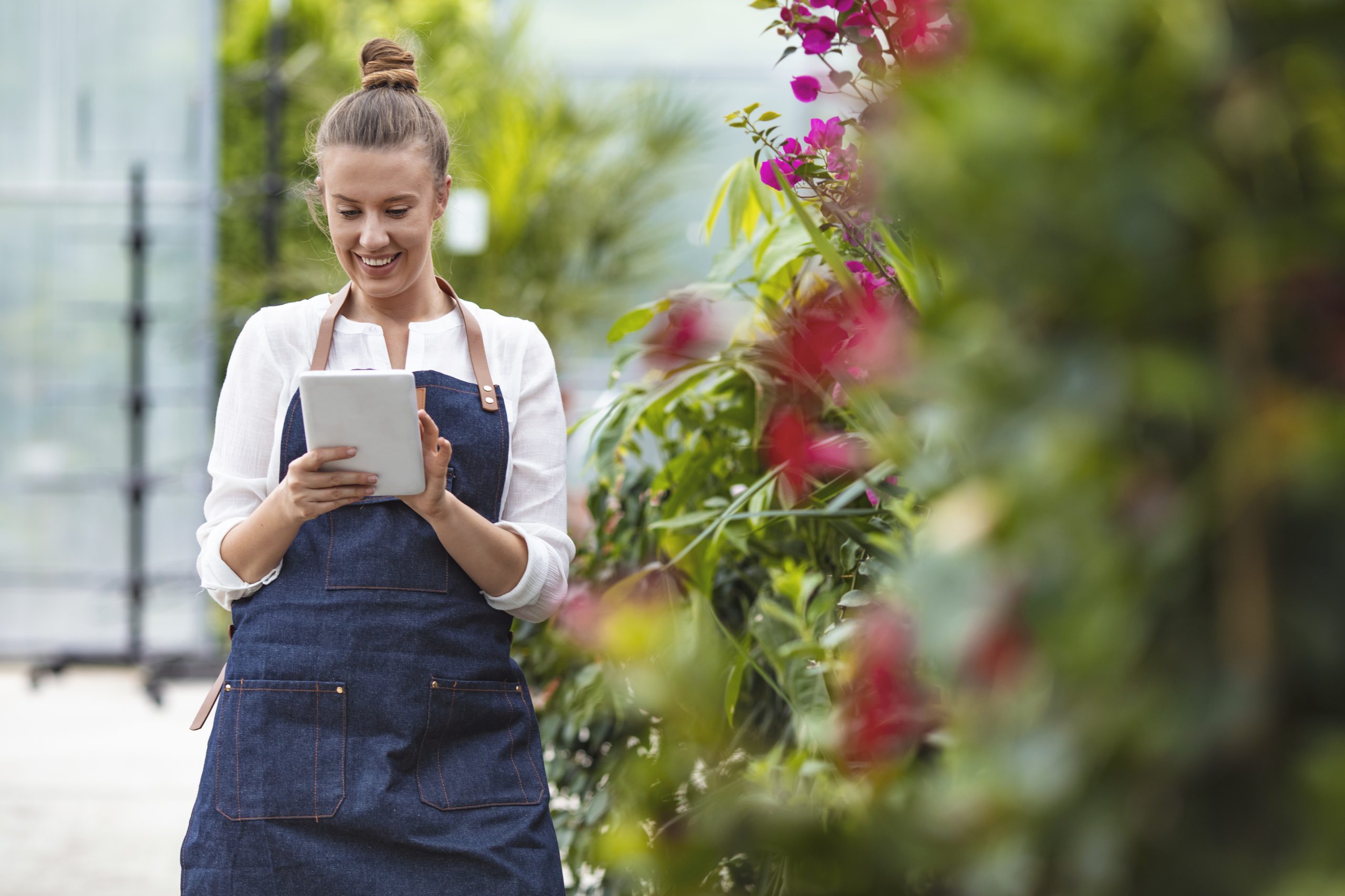 STRATEGY AND COMMITMENT
Sustainability
Technology is becoming more important than ever, becoming more intelligent, more mobile and, above all, more sustainable. The world evolves day by day and at Axians we carry out projects that improve everyday life. We are committed to creating a better and sustainable future.
Find out more about our projects
Axians and VINCI Energies
Axians is the VINCI Energies brand specializing in information and communications technologies and provides a wide range of solutions and services to meet the needs of companies in IT and communications infrastructures.